Use and care of dahlias
How to use dahlias in your garden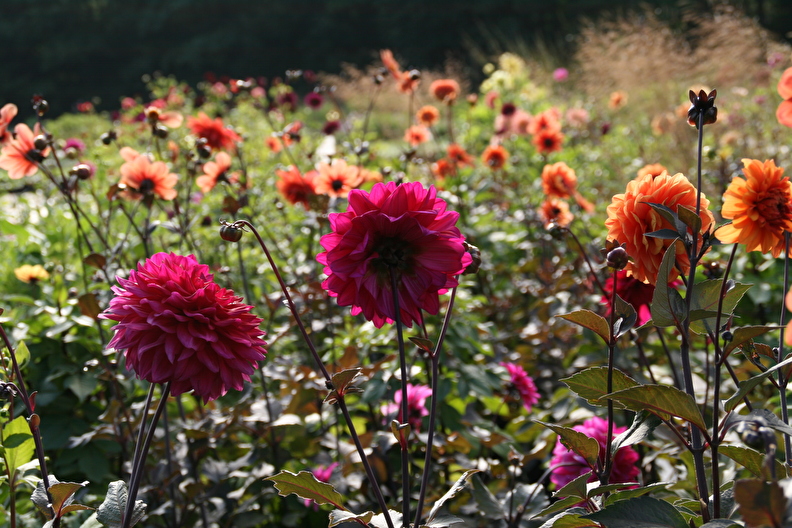 Fiery colours in autumn borders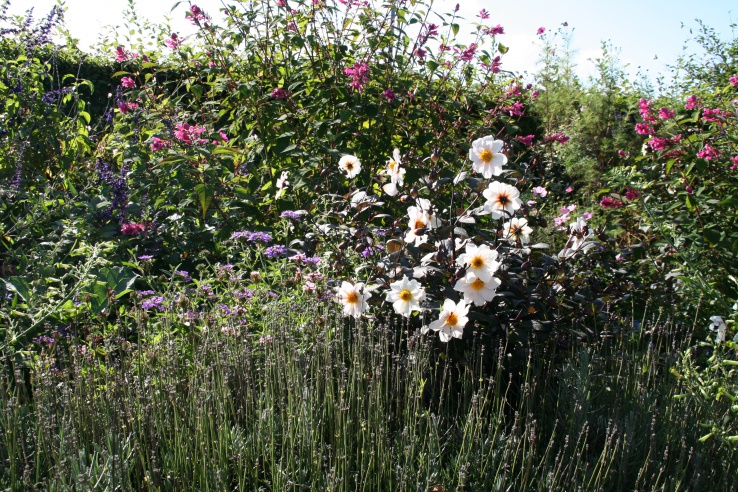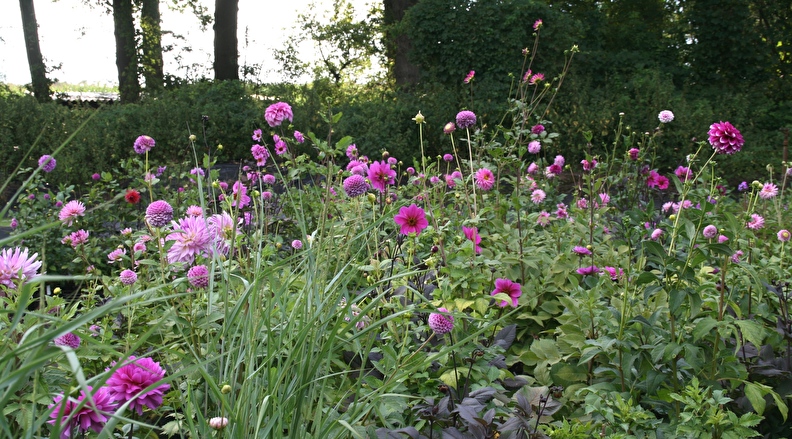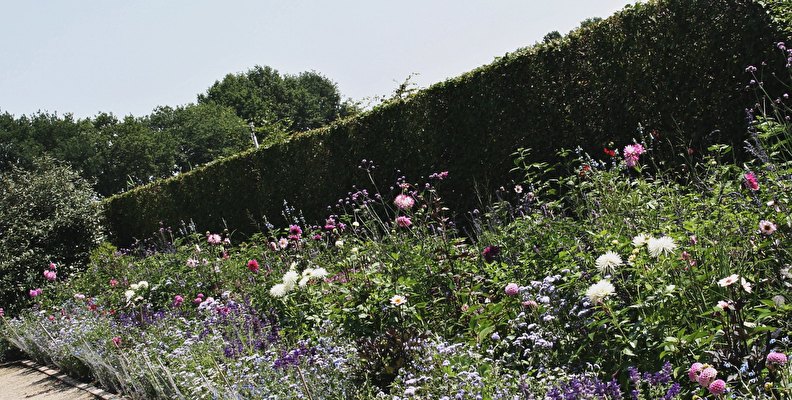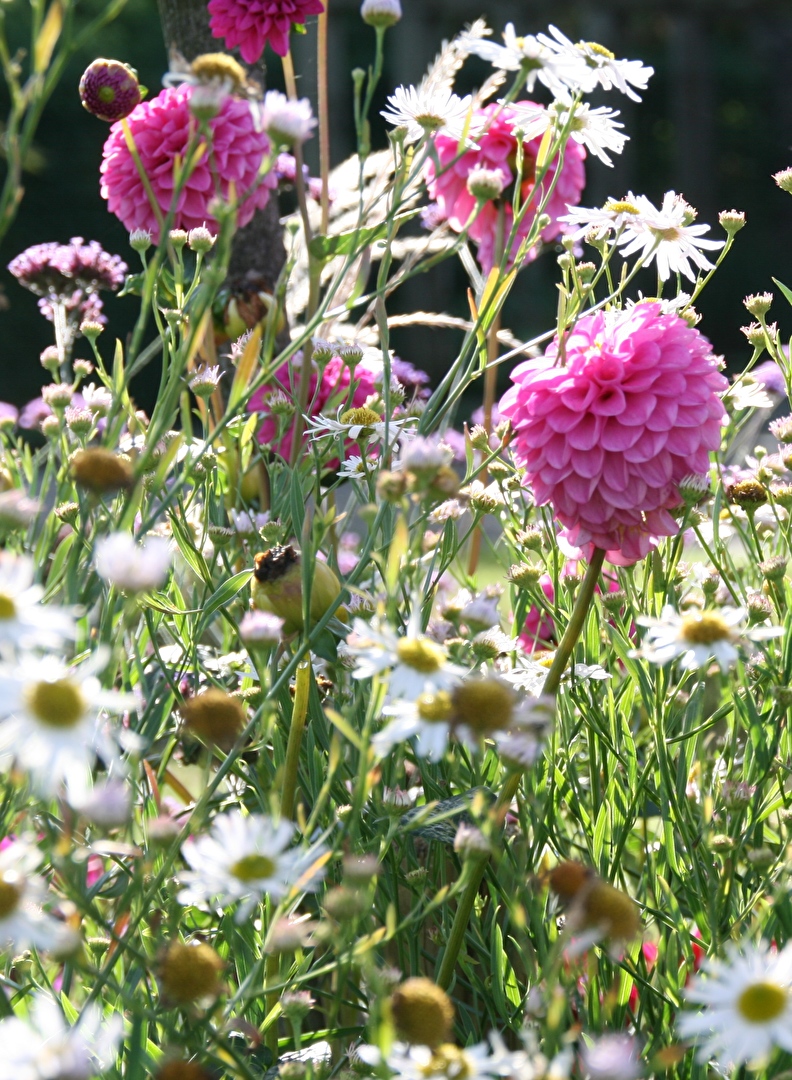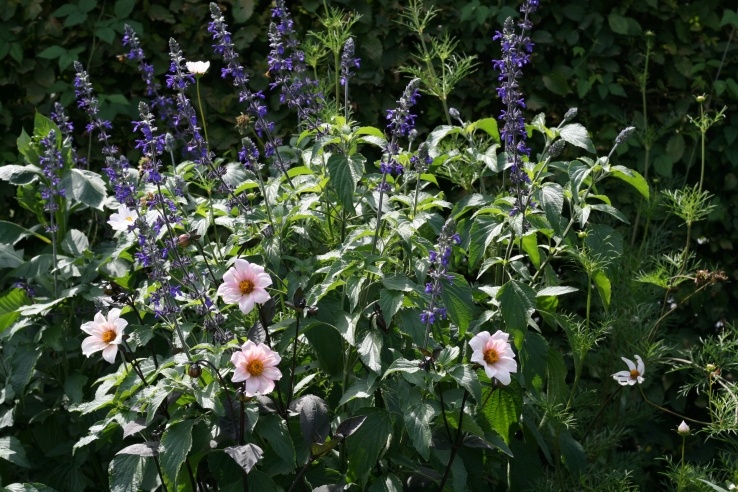 By colour in sophisticated borders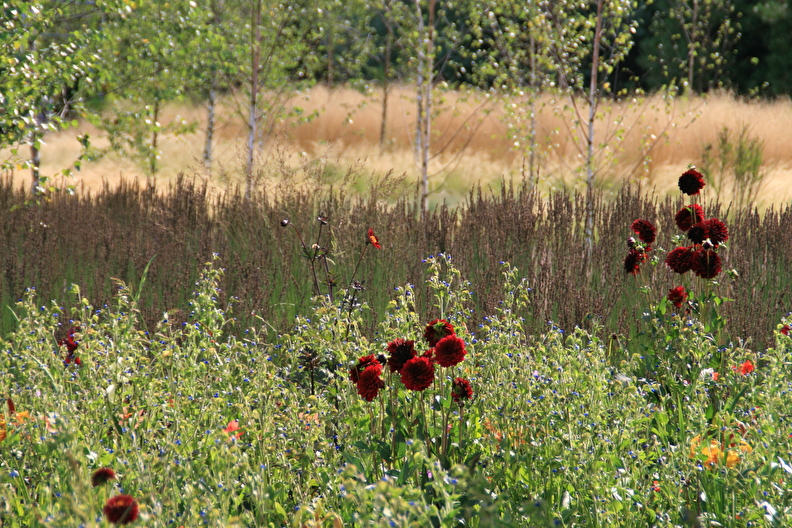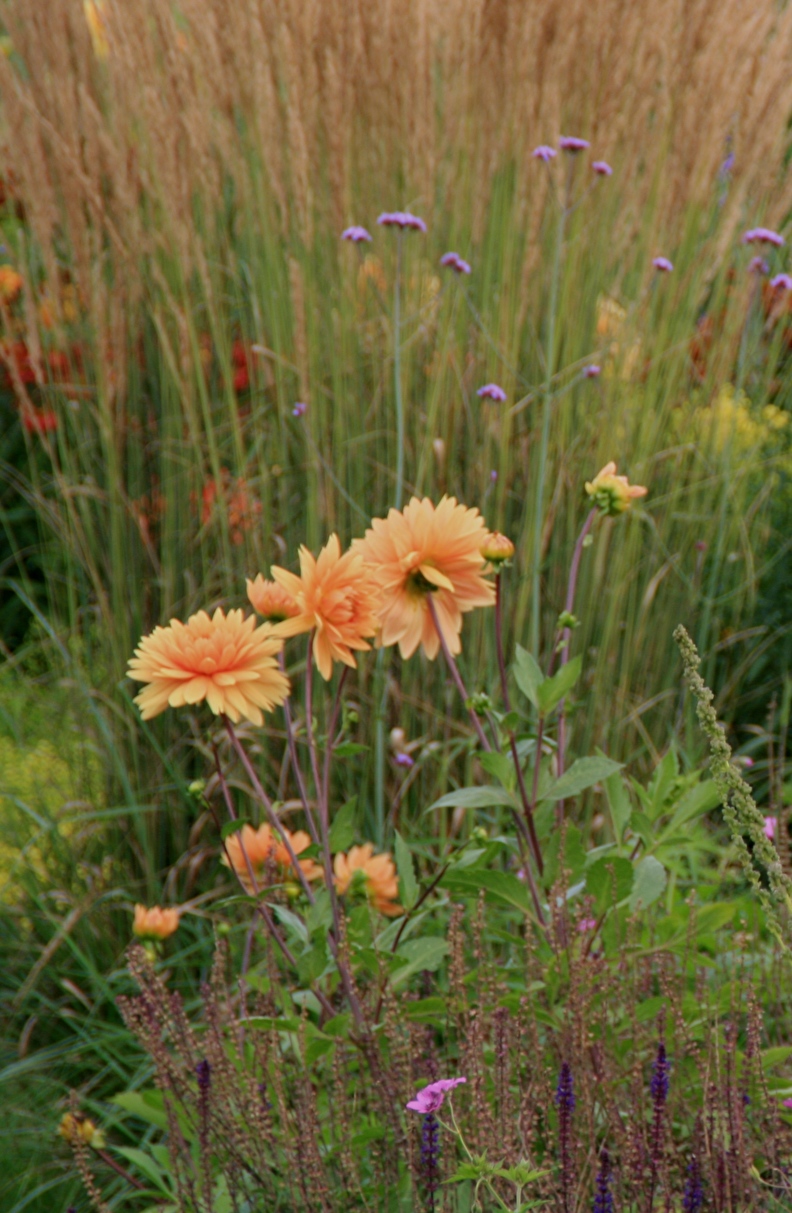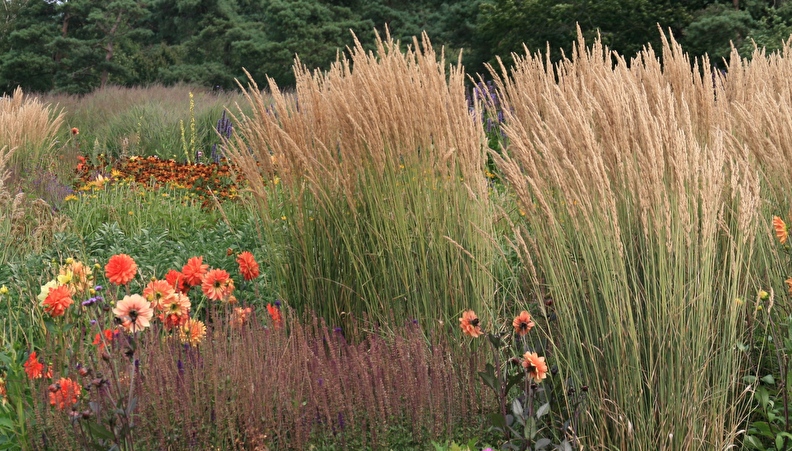 In minimalist grass borders

New style cottage garden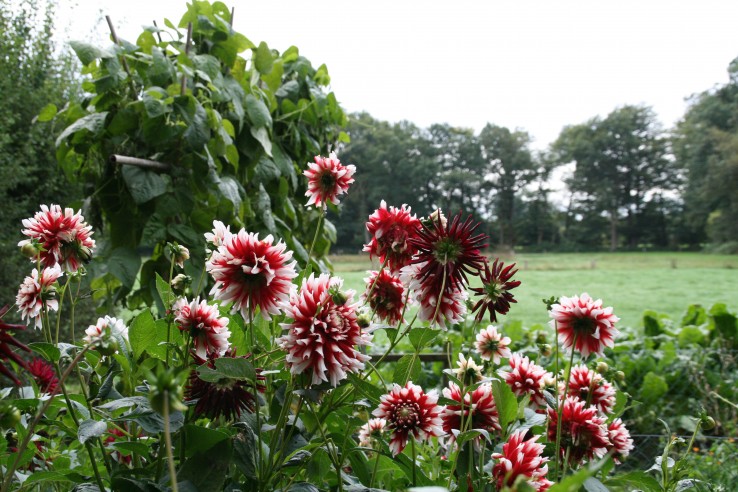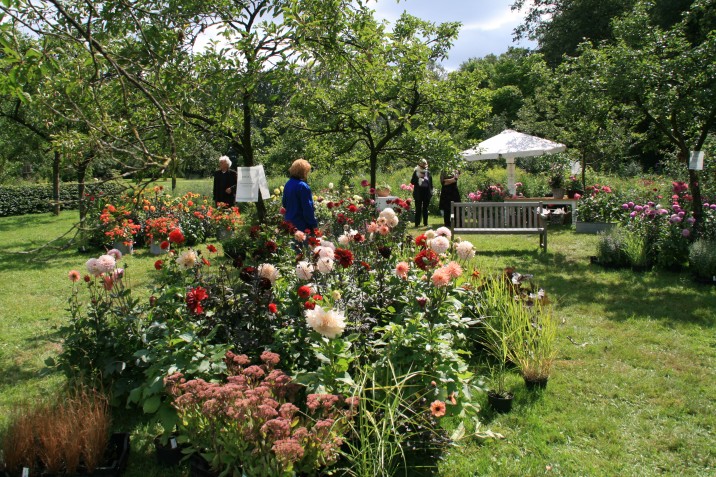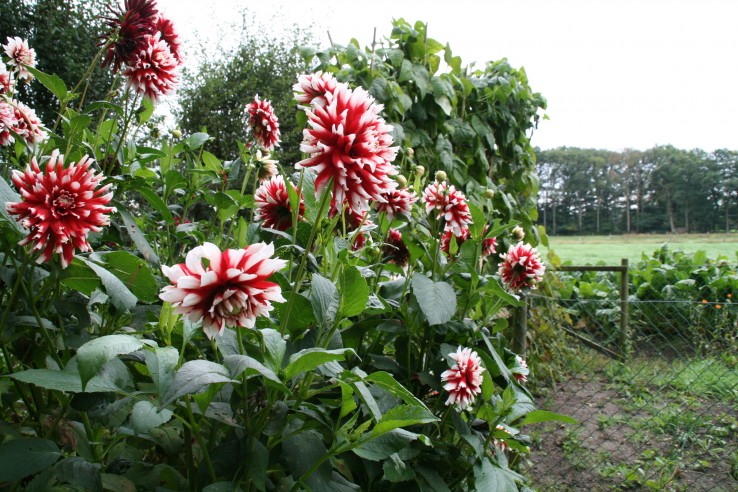 In the vegetable garden and the allotment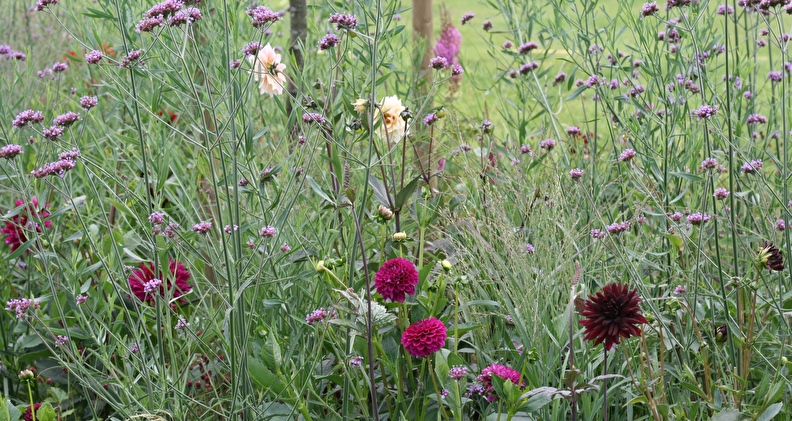 Dahlia flower meadow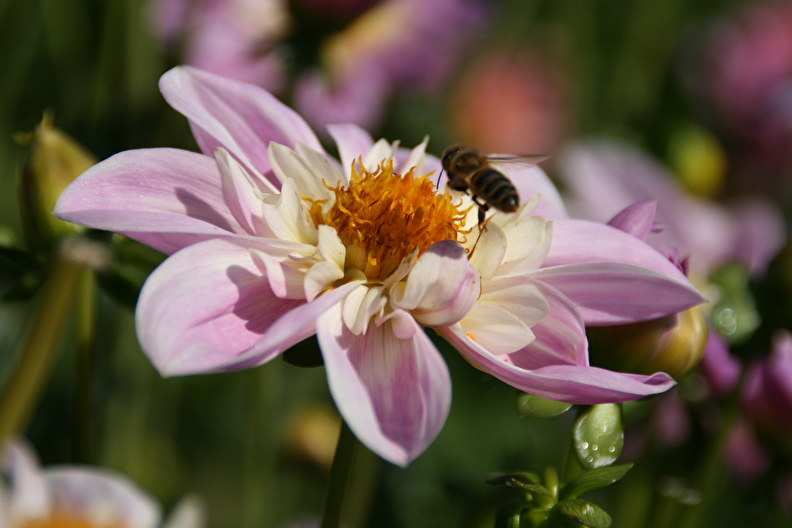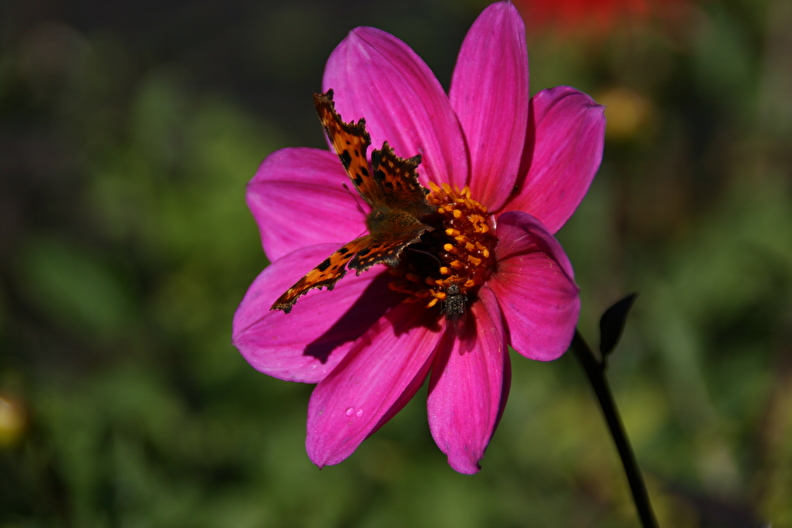 Single-flowered dahlias for attracting butterflies and bees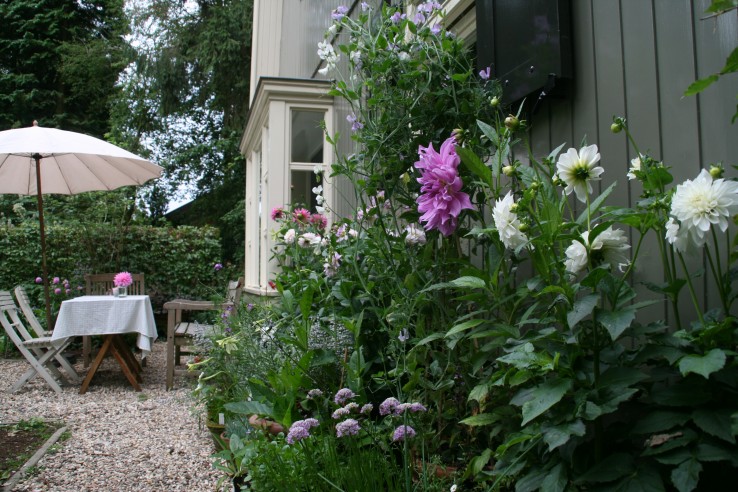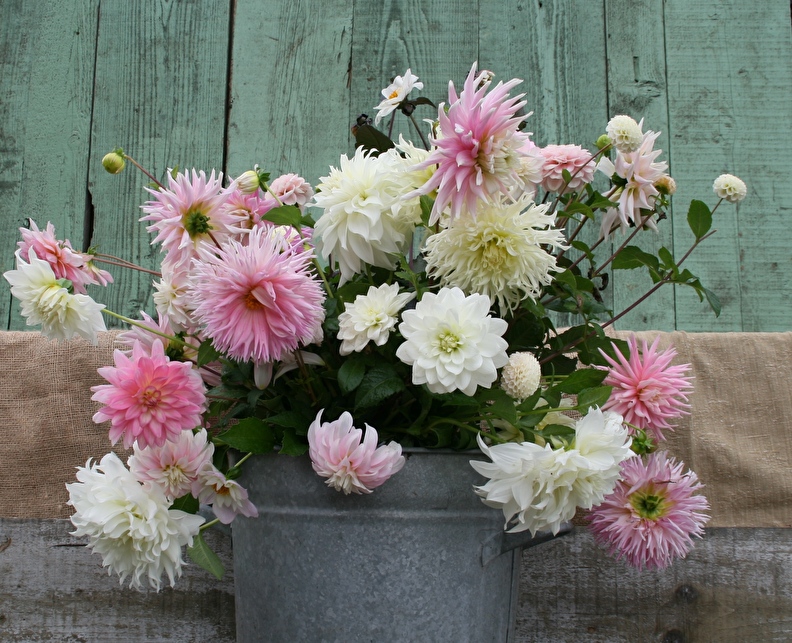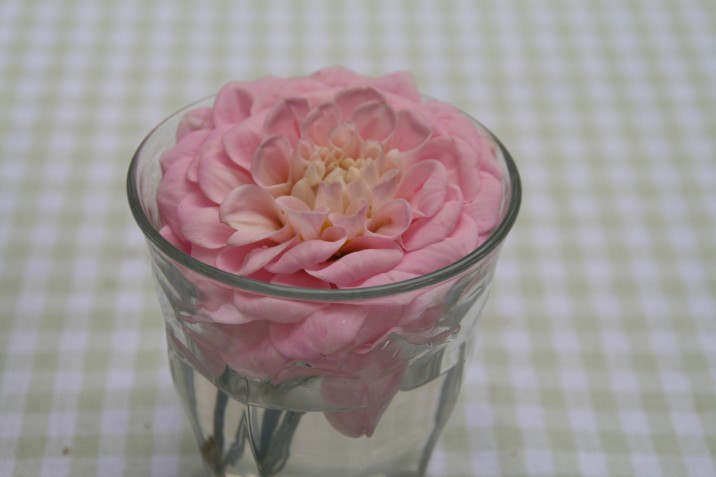 In pots on the patio As cut flower
Dahlias are perfect long-flowering border plants and can be used for a multitude of different garden styles. Planted in small groups, or solitarily among grasses and airy perennials, the blooms and coarse foliage will be well integrated in the border. Not all dahlias have coarse foliage, though. The ones from the Bishop series, for instance, have gracefully indented foliage like most anemone-flowered dahlias. You can combine different flower types, or create similarities in form by pairing pompon dahlias with ball dahlias; a combination with airy grasses will then evoke a stunning contrast.
Potted dahlias are ideal for filling gaps in the border. We all know that midsummer feeling that your garden lacks a certain something. In that case a 'dahlia-make-over' can do wonders. Find dahlias that match your garden's colour scheme and move the pots around until you are happy with the result. Then get the flowers out of their pots and plant them at that very site among the perennials. Do not forget to water them royally after planting. In a large, mature border dahlias can be transplanted to bigger plastic containers among the perennials. Make sure the containers are not visible and remember to regularly water and fertilise the pots. This method will enable you to move the pots around throughout the season, and easily store the tubers during winter.
Short dahlias are obvious choices for pots, but tall dahlias are suitable for pots as well, for instance as part of a flower pots border. Combine your favourite dahlias with a collection of potted annual plants, perennials and other summer bulbs. Shady gardens are not ideal for growing dahlias, but you can easily brighten things up by creating a pots border against a sunny facade of your house or garage.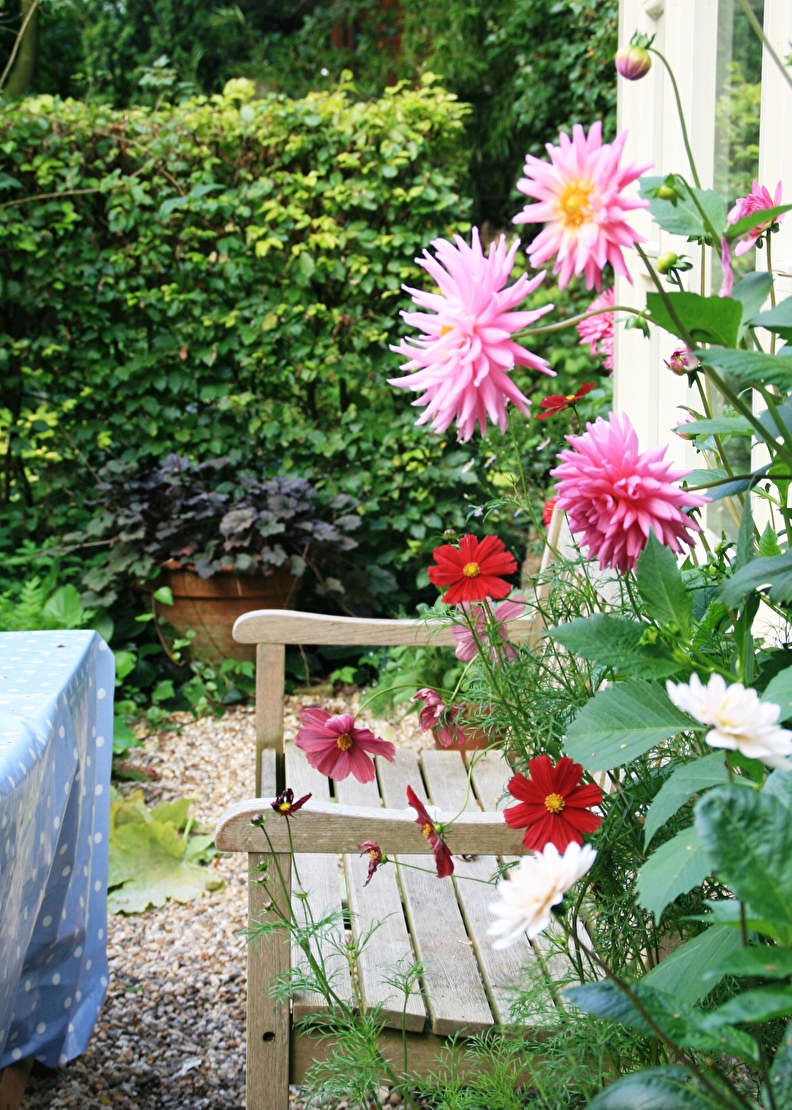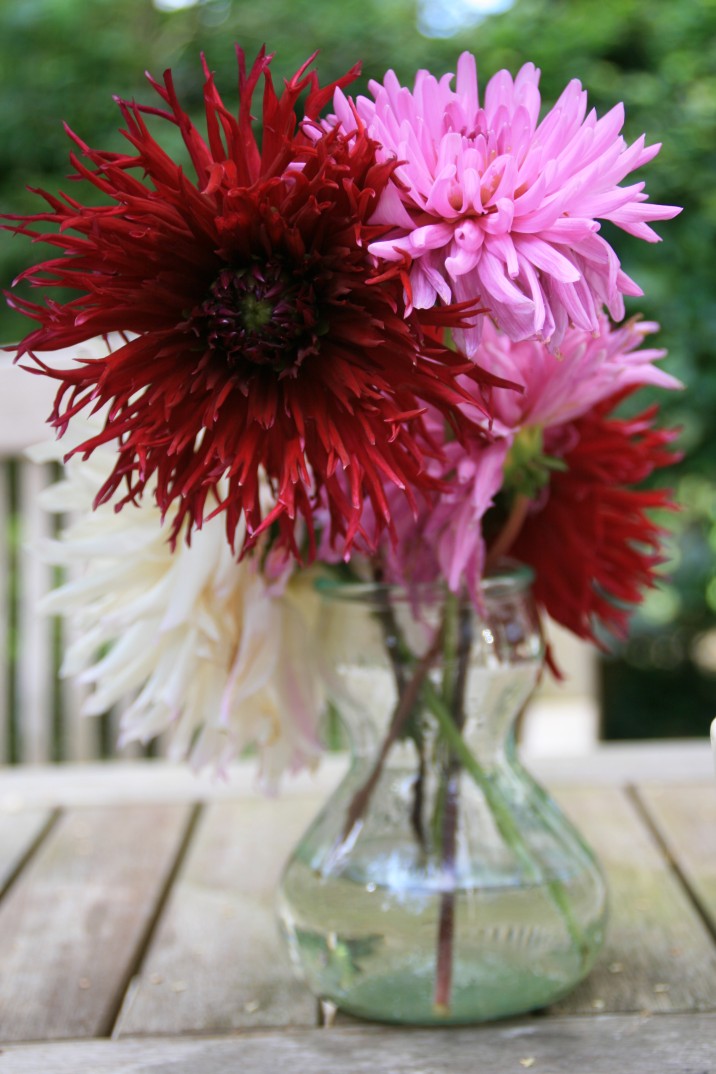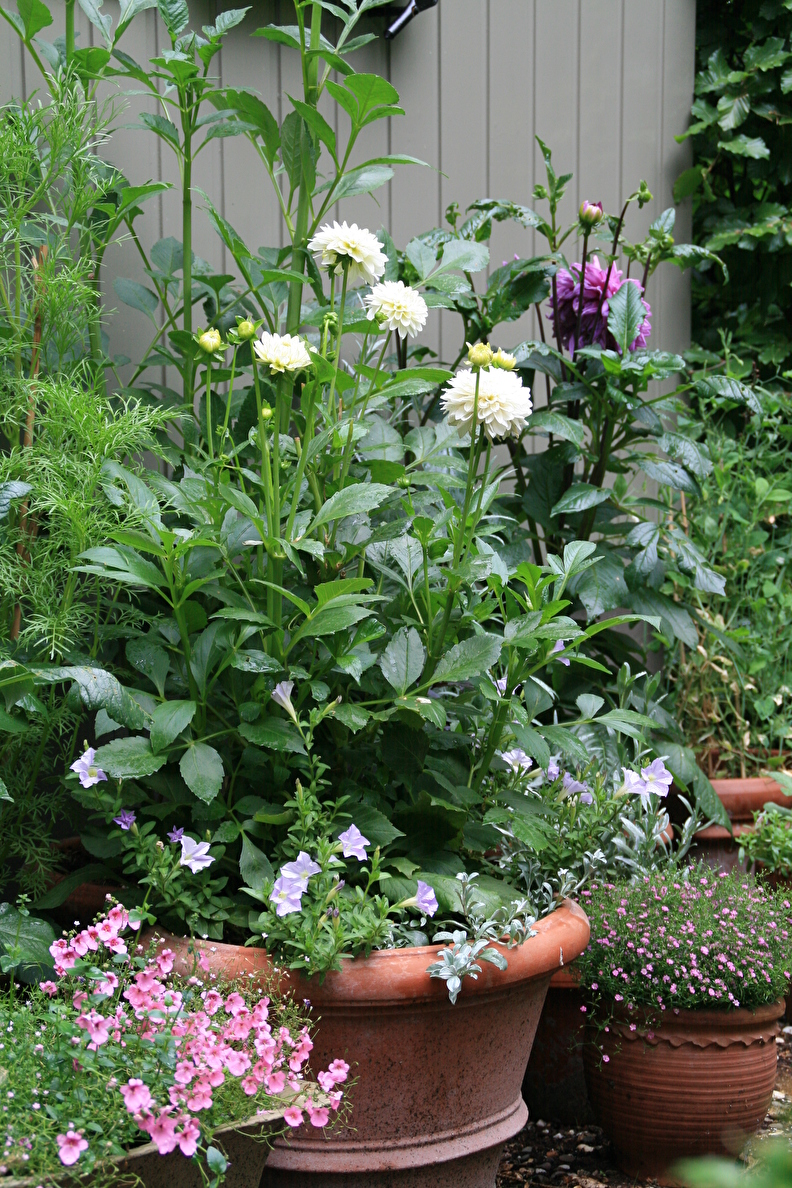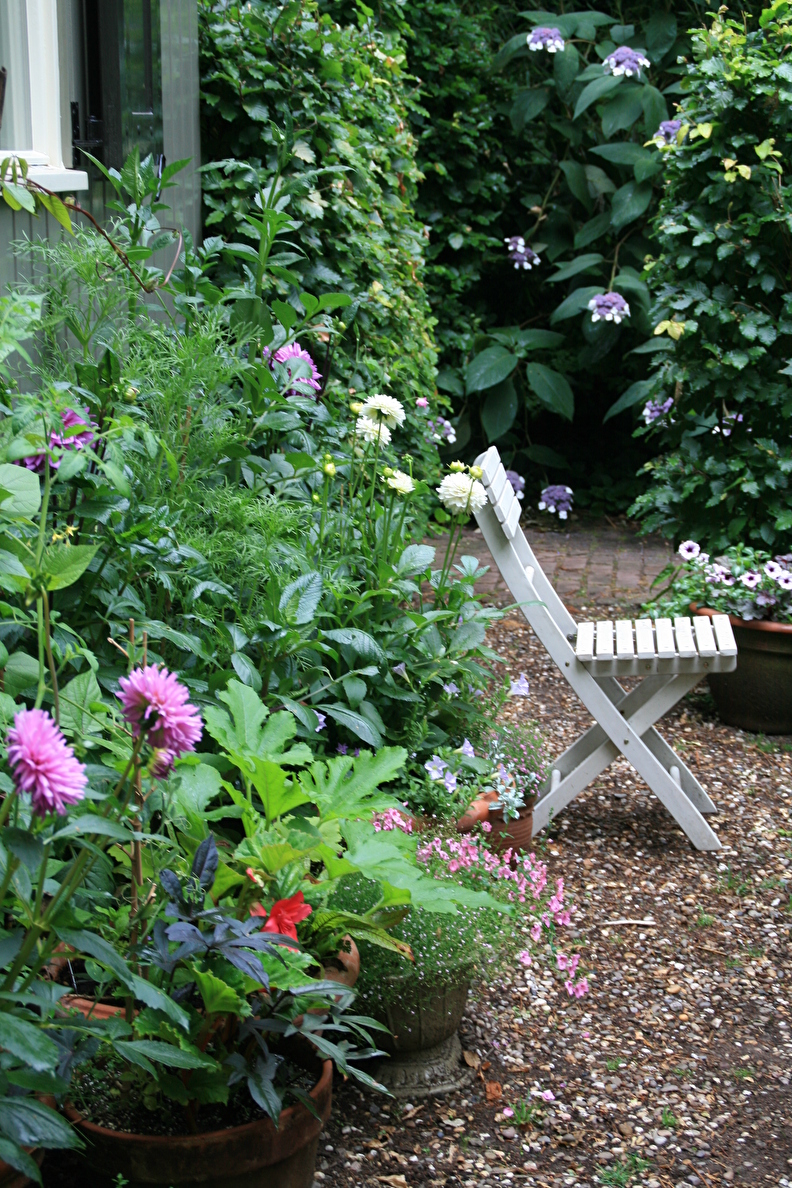 Traditionally, dahlias are often planted in vegetable gardens or allotments, where they are shown to good advantage. Ornamental vegetable gardens have become increasingly popular in recent years, and a few well-chosen dahlias can create a stunning effect there. Try blending bright red dahlias with red chard and dill, or combine red cabbage with orange dahlias and purple queen beans. A definite must for every (vegetable) garden is a small dahlia corner for bouquets. Choose a large-flowered, over the top species which is slightly awkward in borders but a real eye-catcher in bouquets.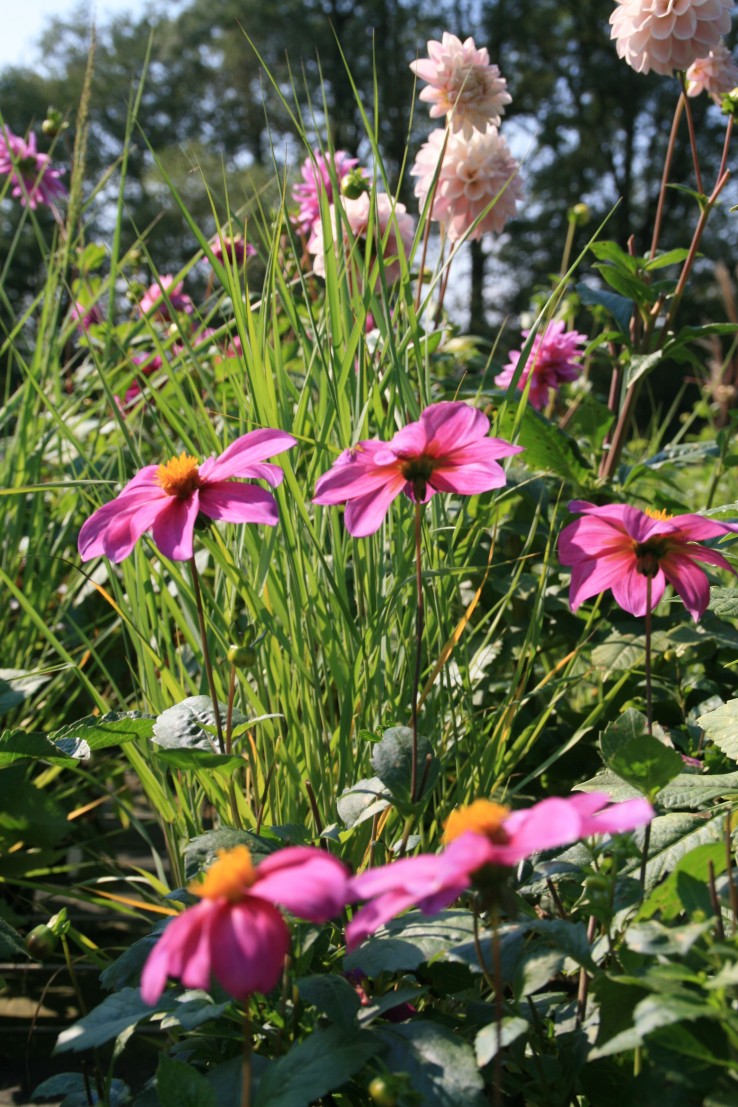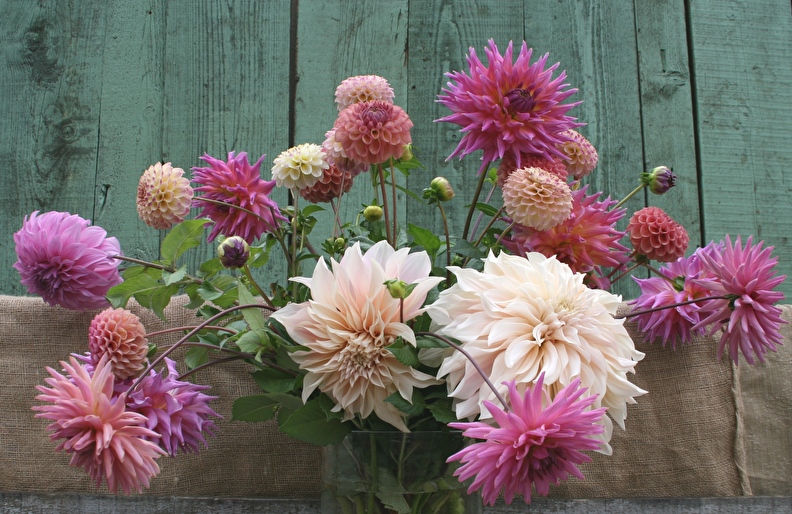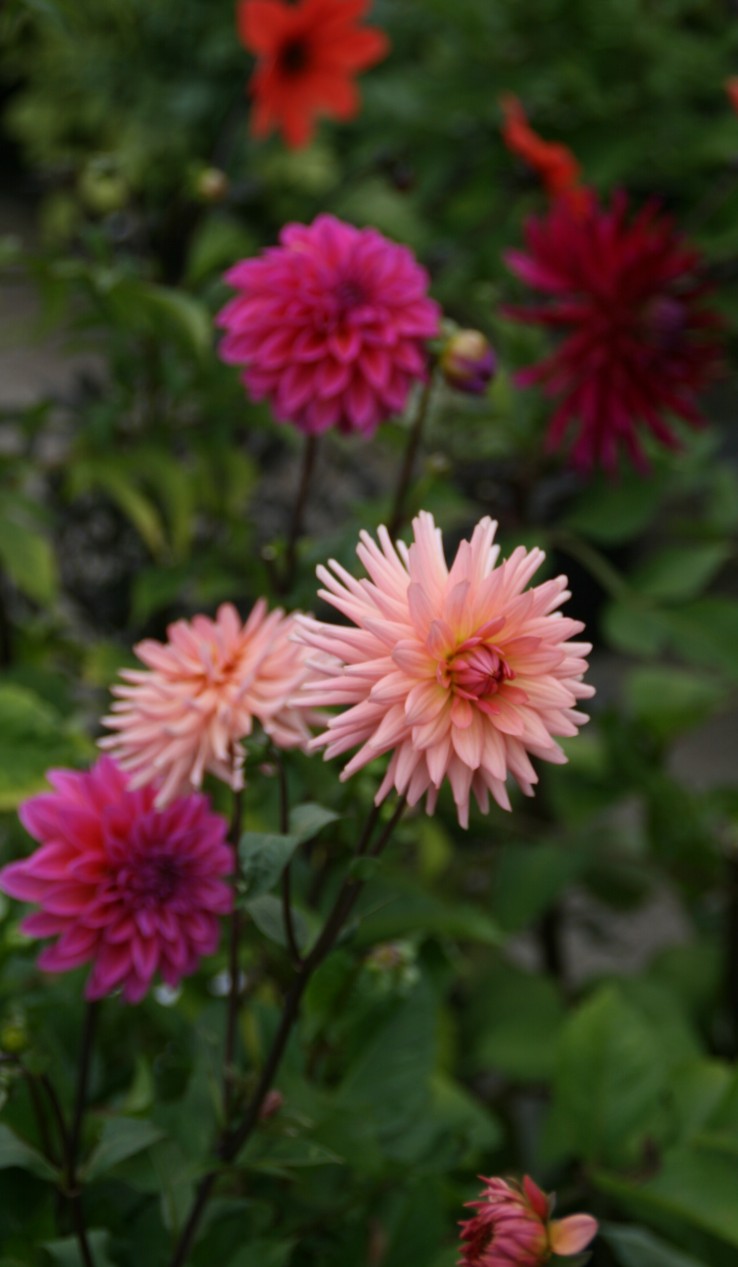 The rather short vase life of dahlias is broadly outweighed by their perfect suitability for creating unique and personal flower arrangements. Karma dahlias are purposely bred for cutting. They have long stems and an outstanding vase life. Ball dahlias are also ideal cut flowers. In the Netherlands, more and more pick-your-own gardens have made room for dahlias. Lastly, whatever garden trends dictate: a bouquet of dahlias with white-tipped petals is still the best way to evoke that irresistable feeling of summer joy!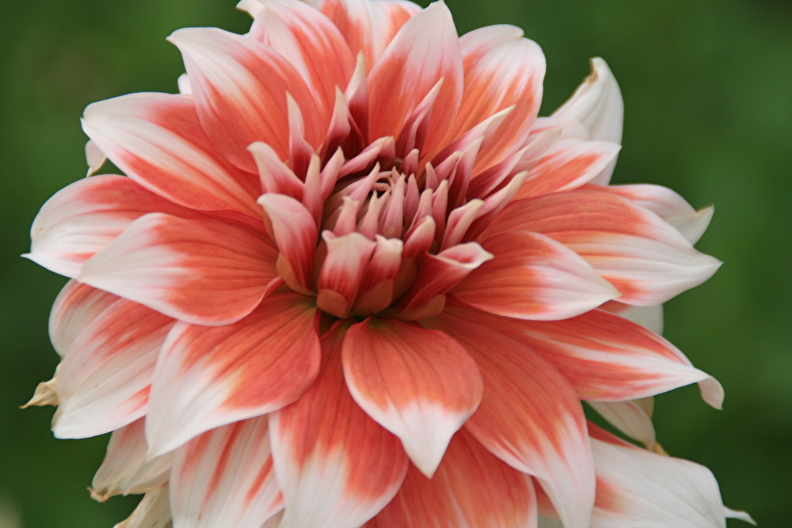 Care
Dahlia tubers should not be planted in the ground before the end of April. Plant them superficially, just below the soil surface. If you want to start planting earlier, you can plant the tubers in a plastic container first, and then put them in a warm, sheltered spot outside or in a cold frame or unheated greenhouse. Dahlias like sunlight and thrive in soil that is fertile and rich in humus. Poor soil can be improved by first adding some compost and manure to the ground. You can fertilise a few times during the season if necessary. Directly after planting, water the plants deeply once.
Potted dahlias require frequent watering and an application of liquid fertiliser every fortnight. Skip one fertilising session if the leaves are very lush and the stems weak. When potted dahlias are not watered sufficiently they will stop blooming, so pick a decent-sized pot to make sure the root ball will not dry out too quickly. Always deadhead faded flowers to encourage further blooming. Cut faded flowers back to the next bud or leaf. Pay close attention, as the faded buds of single-flowered dahlias in particular strongly resemble the new buds!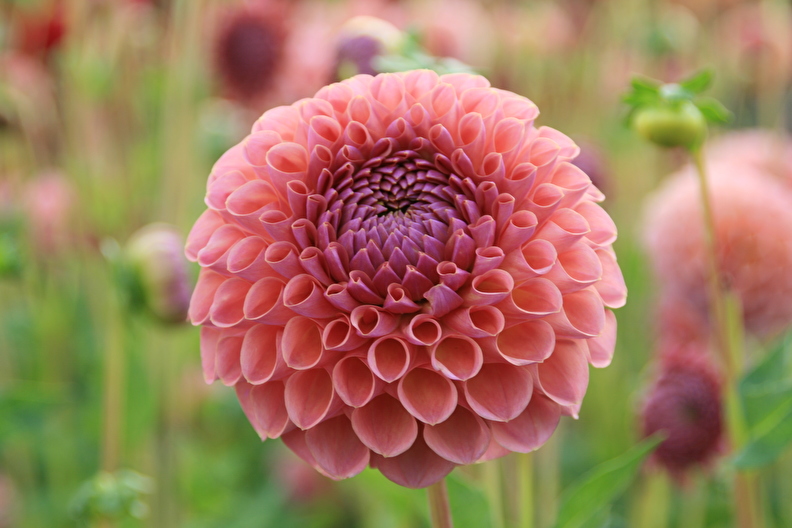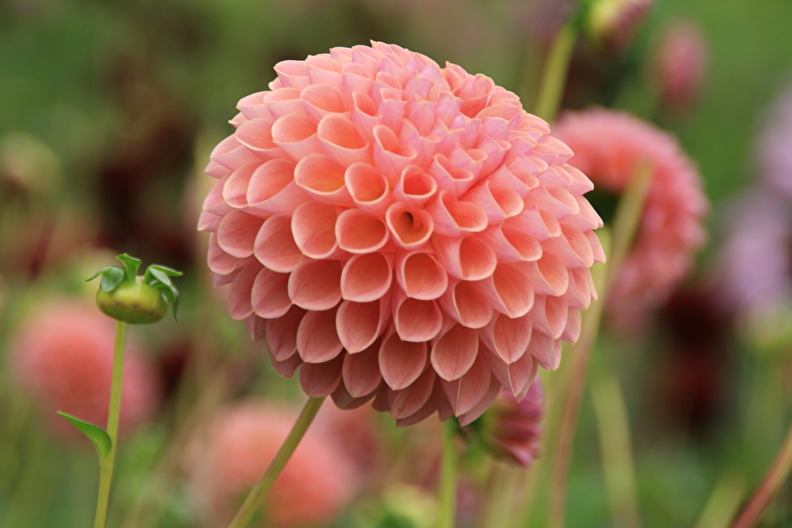 When the first frosts have affected the dahlias it is time to cut down the foliage and lift the tubers from the soil. Store them in a frost-free, cool place. Dahlia tubers can last for years and will keep growing. After several years the tubers can be divided. This is best done in spring, when the new sprouts (the so-called "eyes") are visible. Make sure each part has a piece of the main stem. In sheltered spots, covered with a thick layer of leaves, dahlias can sometimes hibernate for years in the ground, provided the shelter is completely dry and the winter mild. Success not guaranteed, but in case of failure you will at least be able to try your hand at something completely new!
Shopping cart
No items in shopping cart.